Published
: 2015-12-22
Last Updated
: 2015-12-22 15:42:22 UTC
by
Rick Wanner
(Version: 1)
2 comment(s)
Almost completely lost in the hype of the Juniper "unauthorized code" backdoor vulnerability (CVE-2015-7755) is the other vulnerability that was fixed as part of the same patch (CVE-2015-7756). CVE-2015-7756 is titled ScreenOS VPN decryption vulnerability and from the Juniper bulletin this vulnerability may "allow a knowledgeable attacker who can monitor VPN traffic to decrypt that traffic." In short this vulnerability is a cryptographic flaw caused by a potentially backdoored random number generator. It also appears that sometime in 2012 unauthorized changes were made to the parameters used by the NetScreen VPN which permitted this back door to be exploited to decrypt and eavesdrop on Juniper VPN connections.
If CVE-2015-7755 is not enough reason to patch these vulnerabilities as soon as practical, if you use the Juniper VPN functionality, CVE-2015-7756 definitely should give you a push to get it applied.
If you are one of those people who likes reading the technical details of cryptography then I highly recommend the excellent writeup by Raif-Phillipp Weinmann at the rpw.sh blog. For a lighter version Matthew Green has a write-up that is less technical but explains the high level details very well.
-- Rick Wanner MSISE - rwanner at isc dot sans dot edu - http://namedeplume.blogspot.com/ - Twitter:namedeplume (Protected)
2 comment(s)
Published
: 2015-12-22
Last Updated
: 2015-12-22 13:51:19 UTC
by
Johannes Ullrich
(Version: 1)
5 comment(s)
Just a quick update: We do continue to see an increasing trend in login attempts to our honeypot using the backdoor password. If anybody has a vulnerable device to "donate", I would like to send some of that traffic to it (need it to be accessible in an isolated network. Do not need it shipped :) ).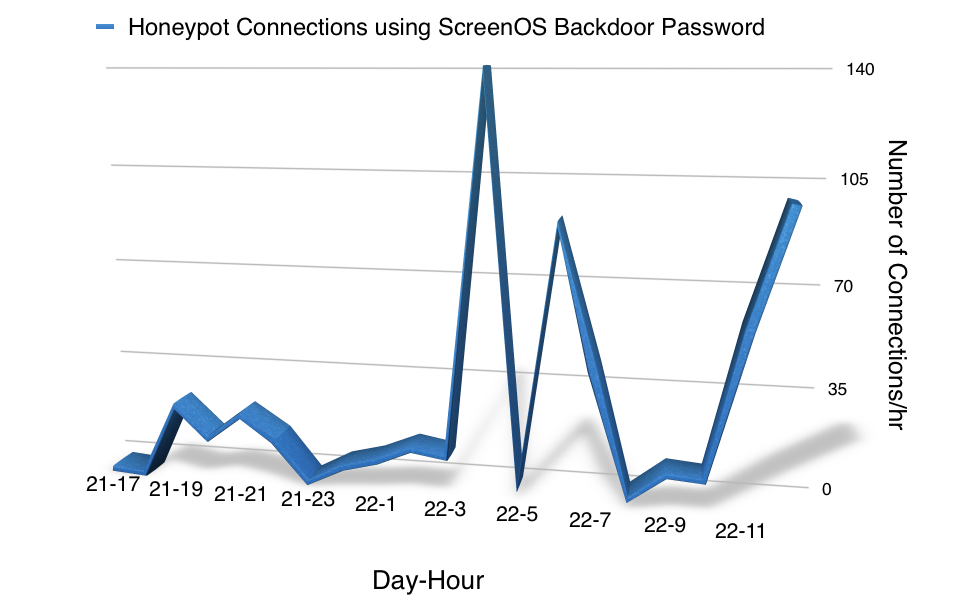 We are detecting numerous login attempts against our ssh honeypots using the ScreenOS backdoor password. Our honeypot doesn't emulate ScreenOS beyond the login banner, so we do not know what the attackers are up to, but some of the attacks appear to be "manual" in that we do see the attacker trying different commands.
We saw the first attempt at 17:43:43 UTC about an hour after I adjusted the kippo honeypot to return the Netscreen banner.
The most popular usernames so far:

+---------------+----------+
| username      | count(*) |
+---------------+----------+
| root          |       29 |
| admin         |       18 |
| netscreen     |        8 |
| login         |        8 |
| administrator |        5 |
| test          |        4 |
| system        |        2 |
| bob           |        1 |
| sdes          |        1 |
| sqzeds        |        1 |
| sqzds         |        1 |
+---------------+----------+
The most frequent source IPs for this attack so far:

+-----------------+----------+
| ip              | count(*) |
+-----------------+----------+
| 83.82.244.85    |       24 |
| 84.104.21.148   |        8 |
| 176.10.99.201   |        7 |
| 88.169.13.26    |        7 |
| 76.18.66.48     |        5 |
| 64.39.109.5     |        4 |<- Qualys (probably "research")
| 198.50.145.72   |        4 |
| 2.239.22.90     |        4 |
| 86.195.19.248   |        4 |
| 80.123.56.190   |        3 |
| 64.39.108.99    |        2 |
| 79.120.10.98    |        2 |
| 62.42.12.8      |        1 |
| 192.99.168.52   |        1 |
| 94.210.22.151   |        1 |
| 174.114.144.109 |        1 |
+-----------------+----------+
Based on hour of day (UTC, Dec. 20th)

+------+----------+
| hour | count(*) |
+------+----------+
|   17 |        1 |<- honeypot was adjusted 16:55 to return Netscreen banner
|   19 |       25 |
|   20 |       14 |
|   21 |       23 |
|   22 |       15 |
+------+----------+
Keywords:
5 comment(s)
×
Diary Archives