Published
: 2015-03-10
Last Updated
: 2015-03-10 18:13:07 UTC
by
Brad Duncan
(Version: 1)
4 comment(s)
Threatglass is a one way to find up-to-date examples of exploit kit traffic. Not all of it is exploit kit traffic, but all of it represents some sort of malicious activity. Threatglass doesn't explain what type of traffic you're looking at from the pcaps the site provides. Let's look at a page from last week on Thursday, March 5th 2015 [1]. This one is exploit kit activity. In the image below, you'll find a link to the packet capture in the lower right-hand corner of the window: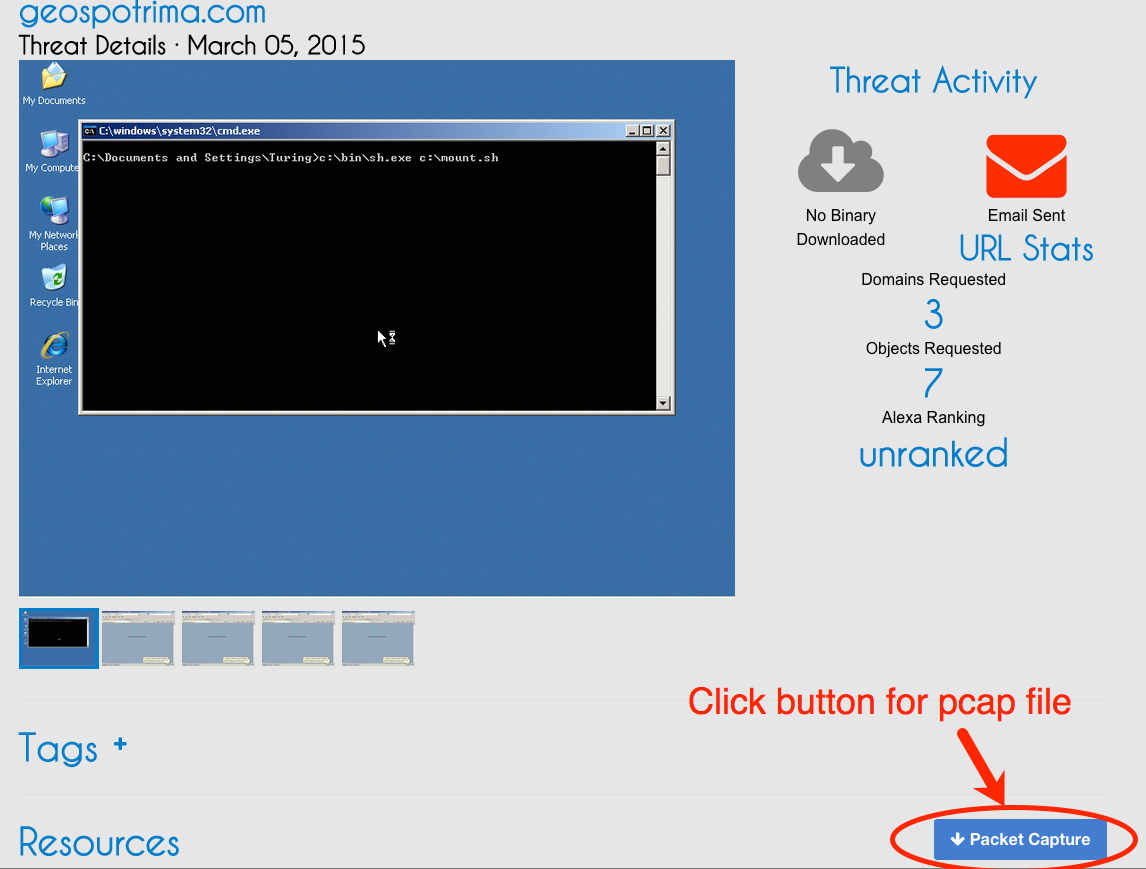 Download the pcap and open it in Wireshark. User http.request as the filter, and make sure you're showing the host name in the column display. We quickly find some unusual traffic, which I know from personal experience is the Nuclear Exploit Kit.

For most exploit kits, the pattern of traffic is: Landing page --> Exploit (Java, Flash, Silverlight, IE, etc) --> Malware payload if the exploit is successful
Let's look at this example by following a few TCP streams in the pcap. First, we have the landing page: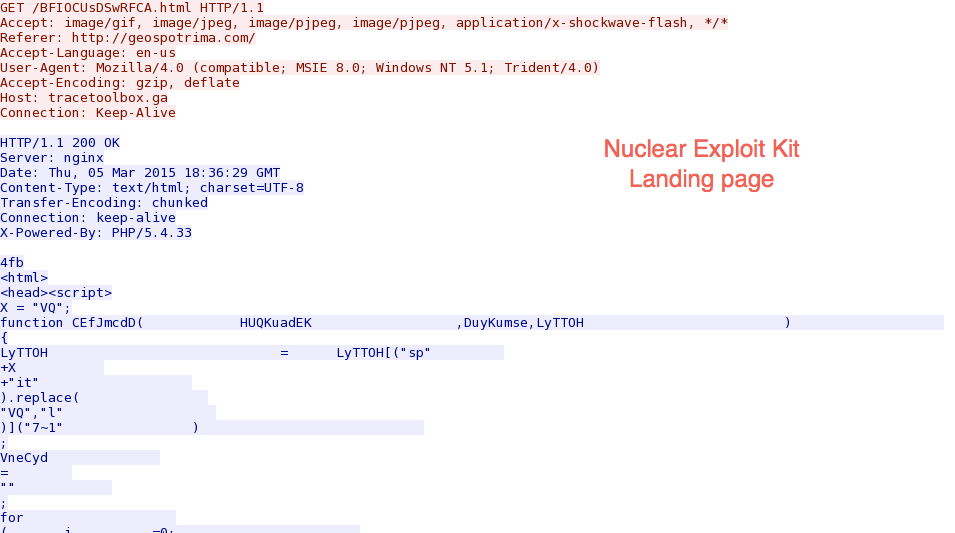 Next, the exploit kit sends a Flash exploit to the victim host: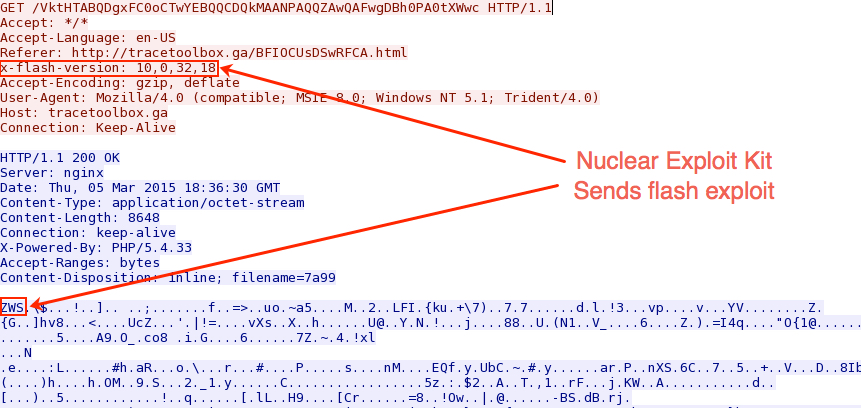 '
When the Flash exploit works, a malware payload is sent. Currently, Nuclear Exploit Kit obfuscates the malware payload with an ASCII string. In this case, the binary was XOR-ed with the ASCII string: VhBFALHxyw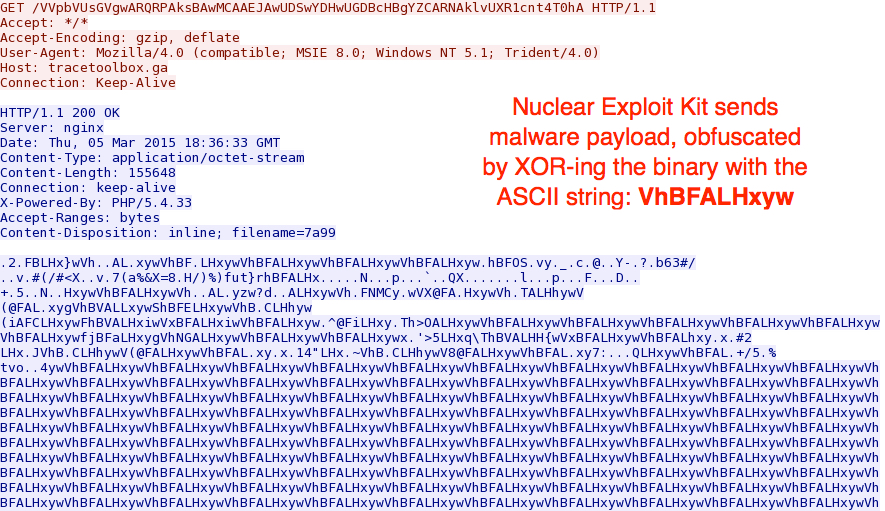 Using a Python script, I was able to XOR the payload with that ASCII string again, and I got the original malicious executable: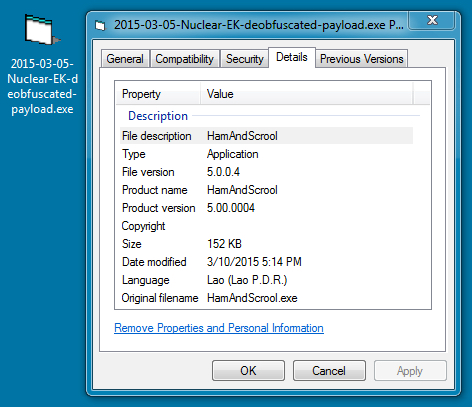 The Virus Total results indicate the malware is a Tofsee variant - https://www.virustotal.com/en/file/7659b2be203a34b7491c7101c0275b9e20e8d801d236817a5285c2e63e0ad0e5/analysis/
If you want a sample of the deobfuscated payload, you can get it from malwr.com at: https://malwr.com/analysis/N2U3NDUwMjQ5MWViNGZkNWFlMTBkMjkxMzExZGQxNTM/
If you have the time, review some of the other entries on Threatglass to figure out which ones are exploit kit activity, and which ones are other activity, like fake flash installer pop-up windows. This is one of many resources on line that aspiring analysts can use to build their skills.
---
Brad Duncan, Security Researcher at Rackspace
Blog: www.malware-traffic-analysis.net - Twitter: @malware_traffic
References:
4 comment(s)
Published
: 2015-03-10
Last Updated
: 2015-03-10 18:04:25 UTC
by
Johannes Ullrich
(Version: 1)
13 comment(s)
Overview of the March 2015 Microsoft patches and their status.
We will update issues on this page for about a week or so as they evolve.
We appreciate updates
US based customers can call Microsoft for free patch related support on 1-866-PCSAFETY
(*): ISC rating
We use 4 levels:

PATCH NOW

: Typically used where we see immediate danger of exploitation. Typical environments will want to deploy these patches ASAP. Workarounds are typically not accepted by users or are not possible. This rating is often used when typical deployments make it vulnerable and exploits are being used or easy to obtain or make.

Critical

: Anything that needs little to become "interesting" for the dark side. Best approach is to test and deploy ASAP. Workarounds can give more time to test.

Important

: Things where more testing and other measures can help.

Less Urt practices for servers such as not using outlook, MSIE, word etc. to do traditional office or leisure work.

The rating is not a risk analysis as such. It is a rating of importance of the vulnerability and the perceived or even predicted threatatches.
13 comment(s)
Published
: 2015-03-10
Last Updated
: 2015-03-10 12:46:04 UTC
by
Johannes Ullrich
(Version: 1)
0 comment(s)
With yesterday's updates for iOS, OS X and Apple TV, Apple also addressed a number of security vulnerabilities, most notably the "Freak" vulnerability. After updating, the affected operating systems no longer support export quality ciphers. However, Apple browsers continue to support SSLv3 and as a result, continue to be vulnerable to POODLE.
Quick Summary of the security content of Apple's updates:
XCode 6.2: This update addresses 4 vulnerabilities in subversion and 1 in git.
OS X: 5 vulnerabilities. The most serious of which is likely a code execution vulnerability in Keychain.
Apple TV: 3 vulnerabilities. One of which would allow an attacker to write files to the system if the user mounts a corrupt disk image.
iOS: 6 vulnerabilities. In addition to FREAK and the above mentioned Keychain problem, a vulnerability that allows an attacker with physical access to the device to see the home screen on a locked devices is patched.
For details from Apple, see https://support.apple.com/en-us/HT1222
Keywords:
0 comment(s)
×
Diary Archives