Published
: 2014-03-11
Last Updated
: 2014-03-11 18:46:08 UTC
by
Basil Alawi S.Taher
(Version: 1)
0 comment(s)
In a previous diary I talked about memory acqusition with Dumpit .in this diary I will talk about how to use Mandiant Redline to analysis the memory dump.[1]
Mandiant Redline:
"Redline, Mandiant's premier free tool, provides host investigative capabilities to users to find signs of malicious activity through memory and file analysis, and the development of a threat assessment profile".[2]
Installation:
1-Download Mandiant Redline from https://www.mandiant.com/resources/download/redline
2-Double click on Redline-1.11.msi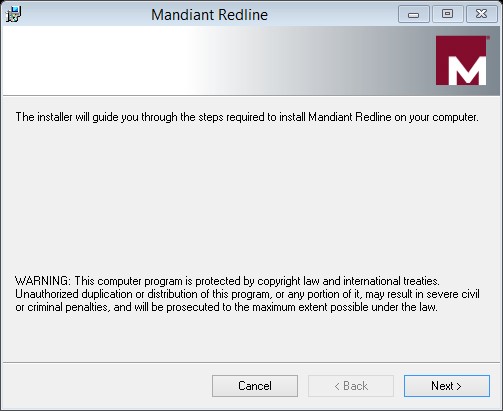 3-follow up the steps, then click close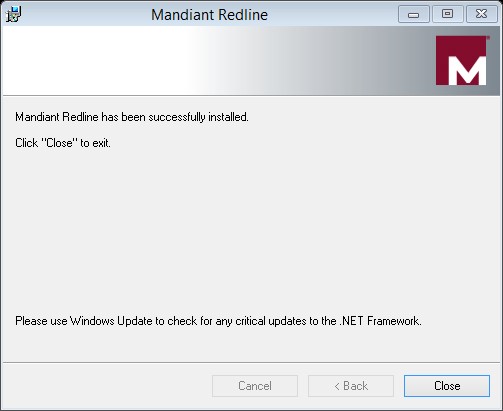 Redline Usage:
To analysis a memory image :
1-Select From a Saved Memory File under Analyze Data on the home screen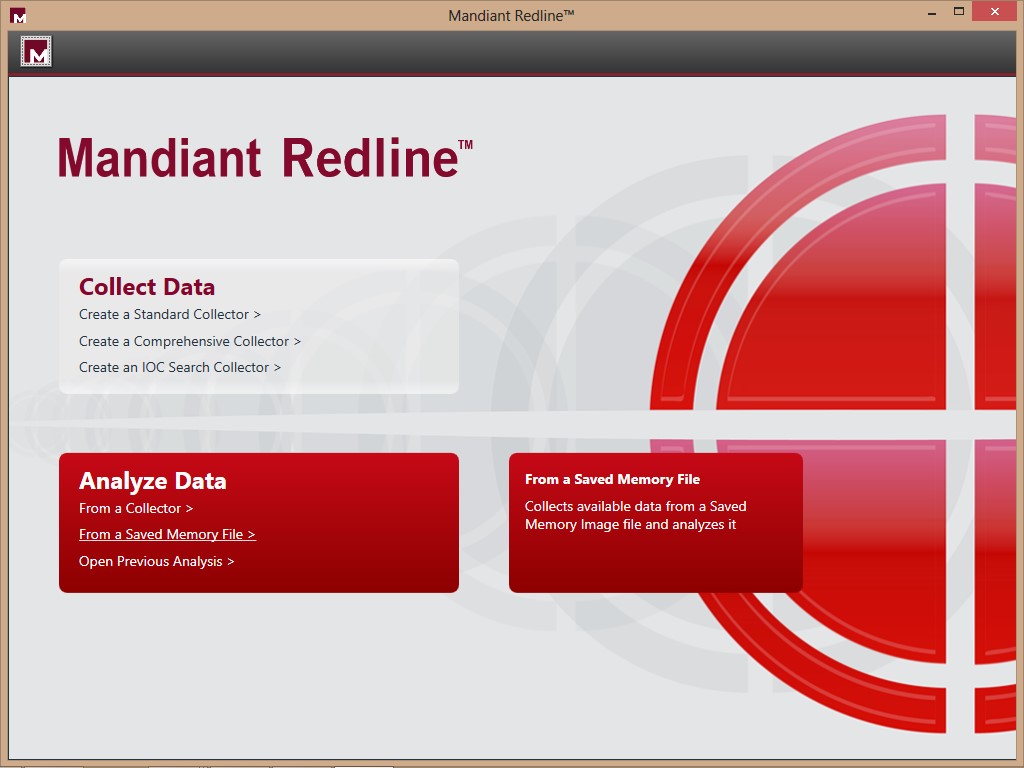 2-Click Browse under Location of Saved Memory Image (for this diary I will not use an Indicators of Comporomise)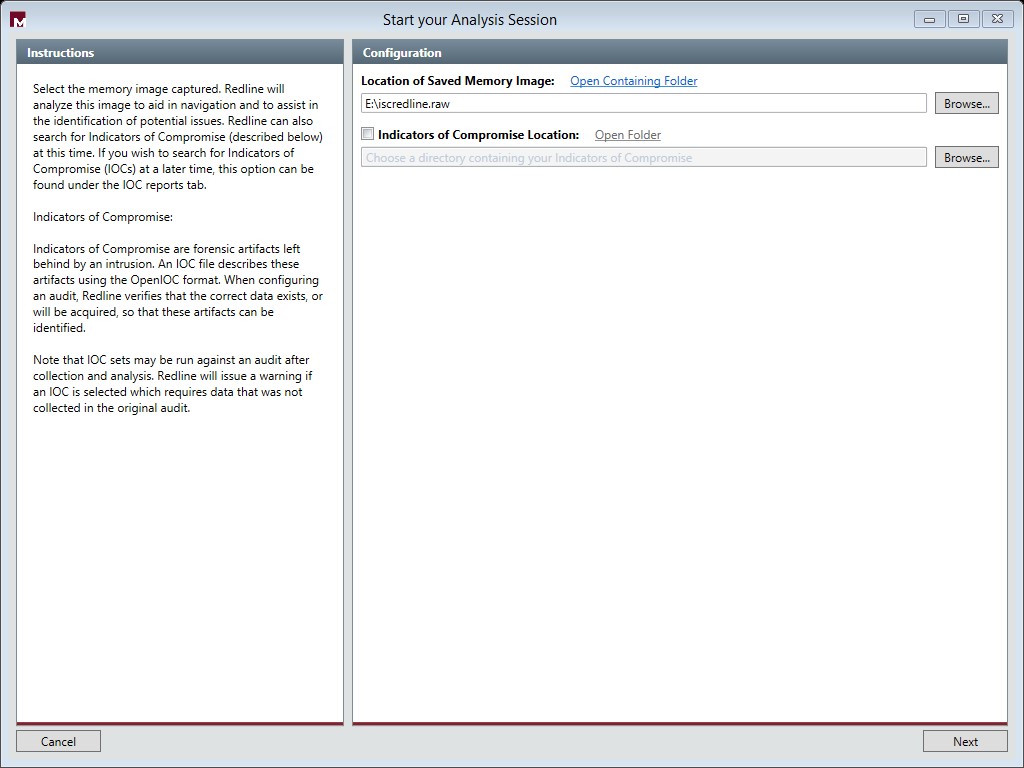 3-Click Next then OK
Depending on the size of the image and the speed of your PC, Mandiant Redline will take time to process the memory image.
4-For this example I am going to choose "I am reviewing A Full Live Response or Memory Image"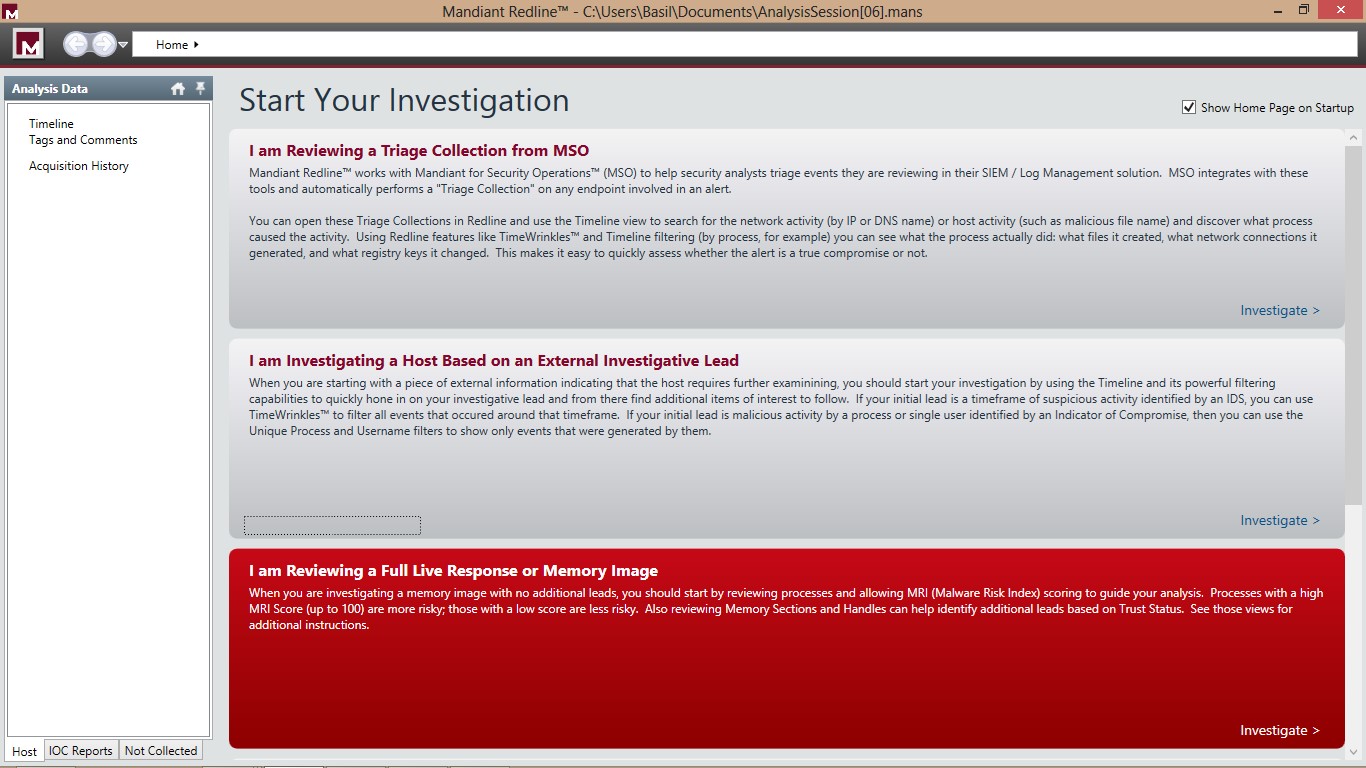 Now our Image is ready for Review:
From the left hand side you can choose which type of Data you would like to analysis in this view it's the "Processes"
Here you can find all the process which was running on the system when the memory image was acquired . It shows the full details about the process such as the Process ID,Path ,Arguemnts ,User name ,SID …etc .
If you would like to view the open ports on the System while the image was acquired , To view ports, click Ports under Processes on the Analysis Data window's Host tab.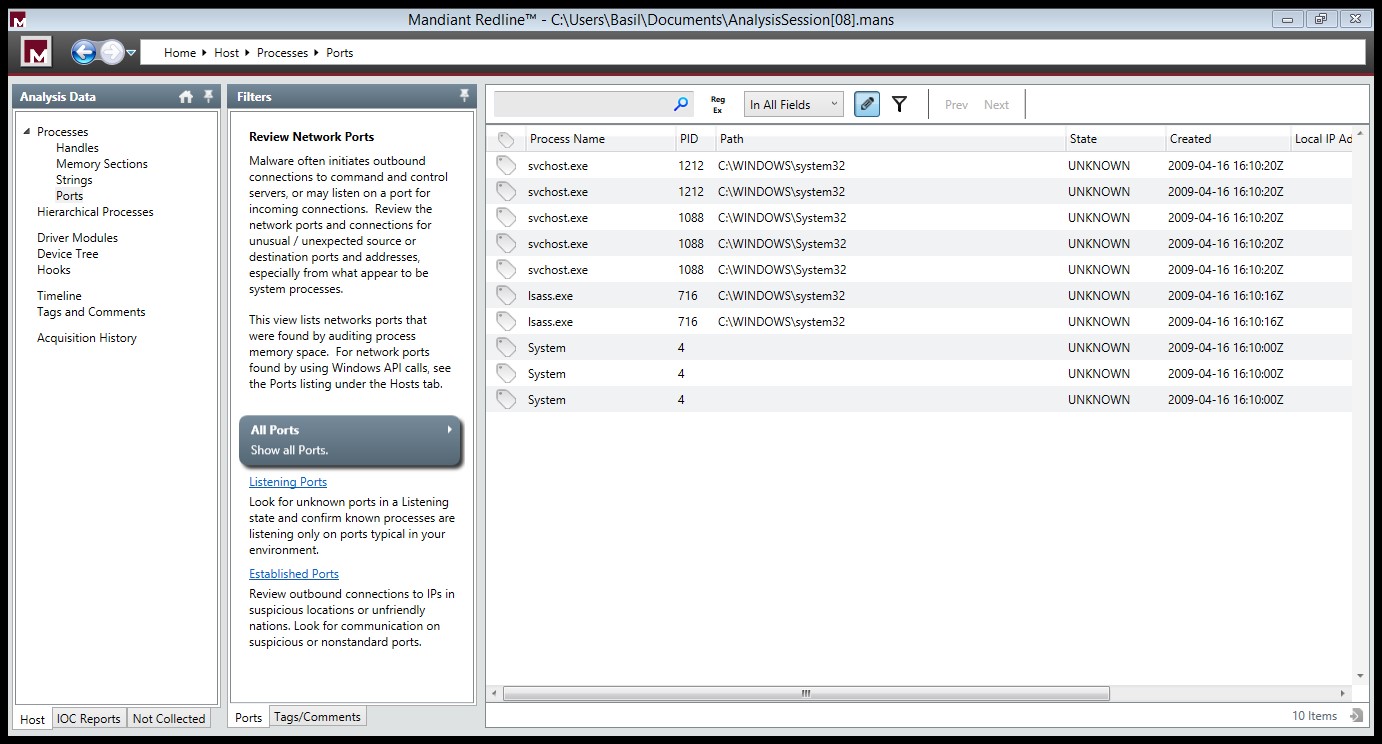 ---
0 comment(s)
Published
: 2014-03-11
Last Updated
: 2014-03-11 17:23:47 UTC
by
Johannes Ullrich
(Version: 1)
0 comment(s)
Overview of the March 2014 Microsoft patches and their status.
We will update issues on this page for about a week or so as they evolve.
We appreciate updates
US based customers can call Microsoft for free patch related support on 1-866-PCSAFETY
(*): ISC rating
We use 4 levels:

PATCH NOW

: Typically used where we see immediate danger of exploitation. Typical environments will want to deploy these patches ASAP. Workarounds are typically not accepted by users or are not possible. This rating is often used when typical deployments make it vulnerable and exploits are being used or easy to obtain or make.

Critical

: Anything that needs little to become "interesting" for the dark side. Best approach is to test and deploy ASAP. Workarounds can give more time to test.

Important

: Things where more testing and other measures can help.

Less Urgent

: Typically we expect the impact if left unpatched to be not that big a deal in the short term. Do not forget them however.

The difference between the client and server rating is based on how you use the affected machine. We take into account the typical client and server deployment in the usage of the machine and the common measures people typically have in place already. Measures we presume are simple best practices for servers such as not using outlook, MSIE, word etc. to do traditional office or leisure work.
The rating is not a risk analysis as such. It is a rating of importance of the vulnerability and the perceived or even predicted threat for affected systems. The rating does not account for the number of affected systems there are. It is for an affected system in a typical worst-case role.
Only the organization itself is in a position to do a full risk analysis involving the presence (or lack of) affected systems, the actually implemented measures, the impact on their operation and the value of the assets involved.
All patches released by a vendor are important enough to have a close look if you use the affected systems. There is little incentive for vendors to publicize patches that do not have some form of risk to them.
(**): The exploitability rating we show is the worst of them all due to the too large number of ratings Microsoft assigns to some of the patches.
------
Johannes B. Ullrich, Ph.D.
SANS Technology Institute
Twitter
0 comment(s)
Published
: 2014-03-11
Last Updated
: 2014-03-11 14:40:43 UTC
by
Johannes Ullrich
(Version: 1)
1 comment(s)
Adobe released a new version of Flash Player as part of today's patch Tuesday. No details are available yet. We will update this diary once the details become available. Note that this will also affect browsers like Chrome that include an embeded version of Flash.
------
Johannes B. Ullrich, Ph.D.
SANS Technology Institute
Twitter
1 comment(s)
×
Diary Archives